Chen Chen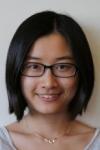 Ph.D. Candidate School of Forestry and Environmental Studies, Yale University
---
---
M.S.P.H Occupational Health and Environmental Hygiene, Johns Hopkinns Bloomberg School of Public Health, 2013

B.S. Pharmaceutical Science, Fudan University, 2011
---
I am interested in understanding climate change related health impact mediated through ambient air pollution. I am currently exploring the long-term temporal change in the association between PM2.5 and risk of hospitalization, whether disparities exist across individual-level characteristics in this temporal change, and how to incorporate these considerations in estimation of air pollution related health impact under climate change. I am also an enthusiastic rock climber and snowboarder.
---
Selected Awards
Winner of ISEE Students and New Researchers Network Student Poster Competition, 2017
---
Selected Publications
Chen C

, Zeger S, Breysse P, Katz J, Checkley W, Curriero FC, Tielsch JM. 2016. Estimating Indoor PM2.5 and CO Concentrations in Households in Southern Nepal: The Nepal Cookstove Intervention Trials. PLoS One 11; doi:10.1371/journal.pone.0157984.

Soneja S,

Chen C

, Tielsch JM, Katz J, Zeger SL, Checkley W, Curriero FC, Breysse PN. 2014. Humidity and Gravimetric Equivalency Adjustments for Nephelometer-Based Particulate Matter

Measurements of Emissions from Solid Biomass Fuel Use in Cookstoves. International Journal of Environmental Research and Public Health 11:6400–6416; doi:10.3390/ijerph110606400.